When we look at the diagram you made, where source is the parent inside the child, as a silent partner and the child is on the outside. I am trying to create as many different diagrams as possible to illustrated Lay Gnosis/Knowsis so that people can have a much easier time understanding exactly what Layman's Gnosis/Knowsis is.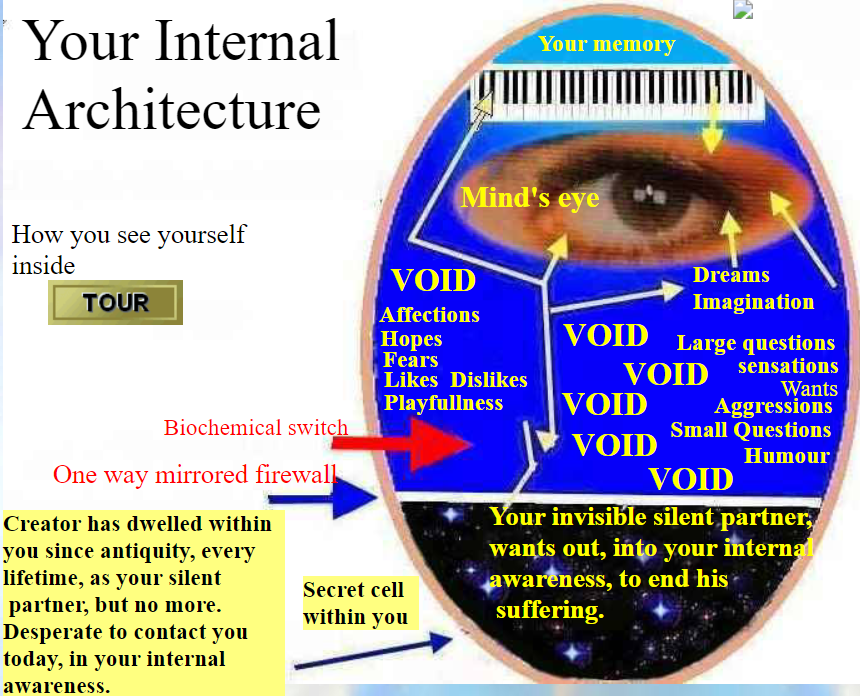 YES, indeed Adam, I started with the egg diagram its a quick diagrammatic metaphor of What we really are ! That huge question unanswered, that causes us so much grief. The egg shape symbolises our nascency. Which alludes to Ugly duckling and our current status. Every day descriptors are used including modern internet style language like "firewall", which provides instant understanding for every computer user, with deliberate avoidance of New Age-isms, psychobabble, or arcane metaphysical academic elitism. Thus it can be readily understood by people young and old, and quickly supplies a mud map to enable a rapid memorable no-nonsense grasp of that most important question, What am I ? And the diagram you refer to Adam, restates the egg diagram, using almost Sets and Logic terms to define the properties of our configuration. To make us think a bit about how wrong our assumptions have been. Name of the page in TBH is Reversal.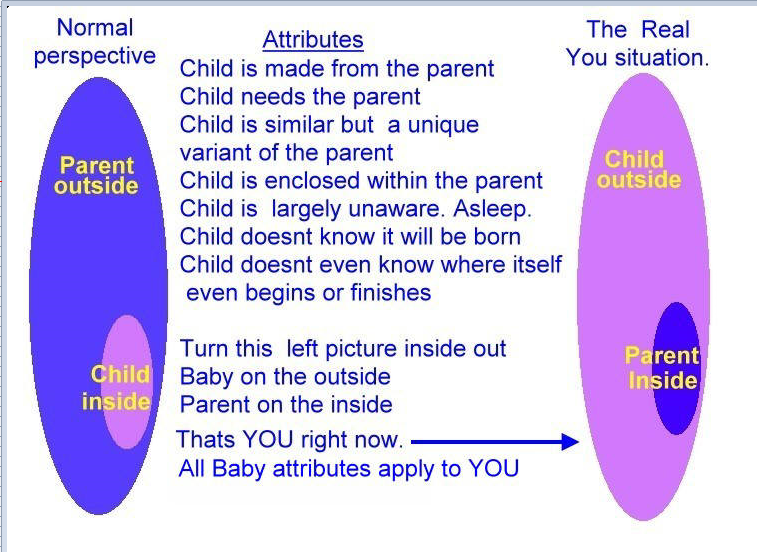 Wondering Adam, might you produce a children's story to illustrate this diagram's theme ? Ugly duckling was the only one that came only modestly close, that I could think of. But its way incomplete. LG works on children. Sometimes in minutes. A senior fellow a fundamentalist, tested it on his nephews, they thought it was wonderfully entertaining And they were thrilled to pieces and giggled when they did the hand thing. Children pick it up fastest, because they are the least programmed, women pick it up quicker than men.and one of the nephews said later during lunch, there is a man shouting at me in my head !
So there are possibilities of children's books, and even computer games and phone apps for kids to teach them LG early on. Even animations.
Phrases that come to mind– for a book title How do Gods reproduce? Finally exposed ! It could be linked to Guardian Angel experiences which are very popular in the US on Youtube. How it's really just fleeting Gnosis in most cases. Loud verbal warning to avoid a car crash etc So Gnostic rescues is a theme
15 People Tell Eerie Stories Of Guardian Angels Looking Out For Them Don't know how true these anonymous stories are, but Youtube has many of them. Many story possibilities there.
https://www.ranker.com/list/reddit-true-stories-of-guardian-angels/melissa-brinks
And the parent child diagram needs fixing I think in TBH, some smudged text there, down the bottom in my Opera browser. LOL